Share this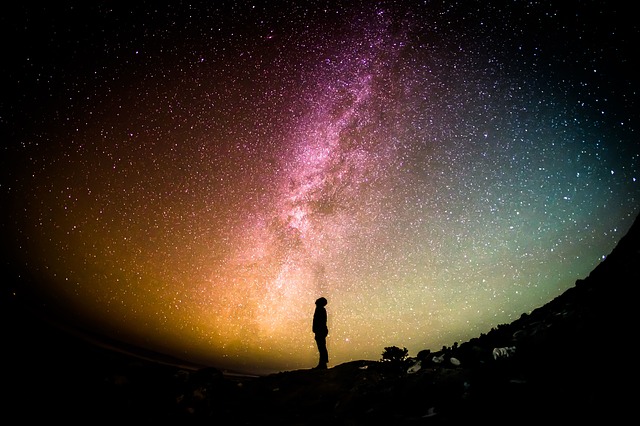 I was inspired to write this article by reading Tommie's Spiritual Elevation Blog, namely his first blog post titled, "What on Earth Am I Here For?" It's about his experience trying to discover his deeper life purpose by reading the second best-selling nonfiction book of all time, The Purpose Driven Life: What on Earth Am I Here For? It reminded me of my own similar, experience.
The first time I considered the idea that each of us is born with an individual, specific life purpose was in the mid-eighties, at an electronics company on Long Island. I had just graduated from college with an engineering degree, and a new friend from work named Dave suggested I check out his church, so that I could discover God's "will for my life."
This suggested that everyone has their own unique and specific plan, and I wanted to know mine. (Up until then, I had assumed the generic Catholic view that it's the priests and nuns who get to have special vocations, everyone else just has a job. And that God wasn't giving out any special assignments in this day and age.)
Before Dave revealed this new idea to me, I wasn't aware that God had specific, detailed plans for individual people's lives. The idea intrigued and startled me. I thought perhaps if I knew my true life plan, I'd make fewer mistakes and avoid the disasters that seemed to haunt my life.
For example, I was disillusioned with my job as a process engineer. And I was trying to let go of a bad college relationship. And the old, used Datsun I purchased for my move to Long Island had begun to break down. Plus, it had also been broken into twice, when I left it at the Huntington train station on my way to New York City. The second time the thief shattered the auxiliary window on the driver's side and made off with my main source of entertainment then—my knitting project. (The radio had already been stolen.) Then, as if that weren't enough, during a heavy snowstorm driving home from work my car's windshield wipers stopped working. So I pulled over to the side, and drove my car straight into a three-foot ditch. Luckily for me, I hadn't managed to get too far from work so I could walk there to get help. Besides all that, I didn't have close friends or family nearby, and I wasn't comfortable where I lived. I seriously thought it was high time to do something about my sorry car and the sorry state of my life—get a brand-new car and a brand-new life, perhaps one with a greater purpose.
But, I thought back then, just because all this bad stuff was happening didn't mean I was going to promise to follow God's plan precisely. I didn't know what God had in store for me. But I was curious and open, and I thought that simply knowing this plan would make life easier and more rewarding.
Some months later, Dave shared another astonishing thing—that he was intuitive and knew I would help a lot of people someday by doing something new. The idea intrigued me—helping others seemed so admirable—but I wondered how that was going to happen given the current state of my life. Well, I had a new car by then, but other things were the same.
Besides, I didn't know anything about this new thing I would supposedly do, so how could he, who barely knew me? Also, it's a little disturbing when others claim to know things about you that you yourself don't know. You wonder how and why this information has been kept from you, and if it is real. You become afraid to hear more, in case of bad news, though ultimately you know it can't be true. But Dave seemed so sure, so smug about his prophecy.
Anyway, I developed a passion to learn more about myself and why my life was such a struggle. So out of sincere motivation to discover my true life plan I attended a few evangelic Protestant services that Dave recommended. But after a few services, after rereading the Bible with new interest and studying a couple booklets offered to me on the topic of God's plan for individuals' lives, my enthusiasm fizzled.
For one thing, I didn't seem to be any closer to discovering my life plan. Also, the experience didn't lift up my heart, and I wasn't moved. I must sound like an awful stickler, but I remember thinking that some passages in the Bible seemed to be confused, as if something were missing. Having lived through eight years of Catholic grade school with its daily mass and religious classes, I just had expected more. After all, as people learn and grow, they're ready for more truth and more wisdom.
The other thing was, where was the sense of humor? Biblical characters—including Jesus himself—must have had a huge sense of humor to keep themselves from going mad, and this sense of humor was completely missing.
Anyway, after not learning anything about my life purpose through Dave's suggestions I kind of gave up on trying to discover it through the Bible, or through religious books or services. Instead, I started to attend a few personal development courses. I also quit my job on Long Island and found a job in Munich, Germany for a while. And for the first time in my life I began to feel more free, more adventurous and open. And I put the idea of discovering the "life purpose that's sanctioned by heaven" out of my mind.
That idea remained dormant until about 15 years later, when, in 2001, I again began to experience some major challenges in my life. This time I had a family, too: a husband and two small children. And this time I could not afford to be casual in my search. Too much was at stake. I demanded real answers from heaven. I expected signs from the Universe that could not be misinterpreted. And crazy, amazing things began to happen, and consistently, when I actually followed through with my inner guidance.
I wrote two books about what I learned once I began to connect to the divine and follow through with my inner guidance. My first book came out in early 2008 and it's a memoir of my reconnecting experience. My second book came out late in 2009, and was a "how-to" ebook on the spiritual awakening process, including how to fulfill your higher life purpose. I updated the "how-to" book recently and put it up on Amazon earlier this year. I'm sure that's what the Divine had planned for me to do (and what Dave somehow knew, even though he didn't know the details about it).
The following are several things I learned about our purpose, in a nutshell:
Humanity has a generic higher purpose and each one of us also has our own individual, specific purpose.
Our generic higher purpose on this planet was to have a fall in consciousness so that we would experience huge challenges and then, by rising above those challenges by connecting with our dormant higher consciousness and learning spiritual and life lessons through firsthand experiences we'd become true masters of our lives. This Earth experiment / experience was designed to have a noble purpose: so that we would become as compassionate, as appreciative of life and each other, and as creative (in addition to other good qualities) as is humanly possible, as quickly as possible.
Our soul plans our individual higher purpose before we are born (I agree with Robert Schwartz' work, Your Soul's Plan) but this plan is not set in stone. It is a fluid plan, and depends on the generic divine plan and humanity's progress with it.
Most likely, we have little to no idea what our individual higher purpose is, not until we spend some time connecting with our higher self and following through with our inner guidance promptly and consistently. For example, with a degree in materials science & engineering and a master's in environmental studies, I did not consciously plan to write books on spiritual awakening. That came later, after I experienced some huge life challenges, began to seek answers from my higher self, and had some amazing things begin to happen regularly as a result of this connection with the Divine.
The Universe will offer you signs that help you find your higher purpose. That is, if you ask for them and you pay attention. (Doing this can help you distinguish your higher guidance from your ego's desires.)
Much of the guidance you receive will be on a moment-to-moment, need-to-know basis.
It takes courage to find your higher purpose and fulfill it. It's easier to simply be a cog in the wheel of the economy and just go along with things as they are. It takes courage to make changes, even those that will put humanity on the right path. But that's what it takes for us to become true masters, such as the master that Jesus Christ was.
Keeping a journal and recording your thoughts, dreams and the things that happens when you follow through with your inner guidance will help you discover your higher life purpose. And as you search for your higher purpose, your life will become more and more interesting and significant.
After going through my spiritual awakening process and viewing personal as well as world events in a new light, I am happier, more optimistic, much more at peace, and have much more compassion and understanding toward my fellow humans, as well as myself. And I definitely feel better prepared to face new challenges.
I encourage readers to begin their journey today by strengthening the relationship with their higher self and gaining confidence in that connection. The rewards are immeasurable.
Please share your experience with trying to discover your higher life purpose in the comments below.
Share this